Recent update by World Bank highlighted that Indian economic growth is likely to accelerate to over 6.0% during FY 2013- 2014. Growth is expected to increase further to 6.7% in FY 2014-2015. Recent data point to some improvements in economic activity: inflation and trade deficit came down in recent months, while private consumption and investment growth had accelerated recently.

"Despite the current downturn, long-term prospects remain bright for India. India possesses the fundamentals to grow at sustained high rates over the next several decades," said Martin Rama, the World Bank's chief economist for the South Asia region.
Economy at a Glance: India 1999-2000 to 2013-14 as on 30-09-2013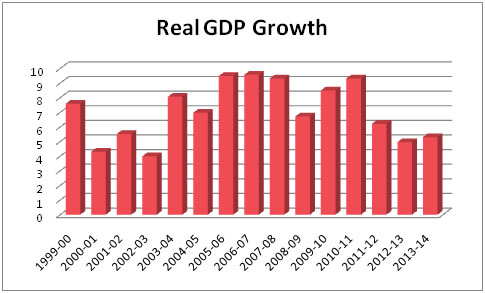 Databook for DCH; 18th October, 2013
Certain facts and figures, pertaining to latest FDI developments in India
India is the third-most attractive destination for FDI (after China and the US) in the world (According to UNCTAD's World Investment Prospects Survey 2012–2014)
India Inc witnessed a year-on-year (y-o-y) upsurge of 24.2 per cent in FDI to touch US$ 3.95 billion in April-May 2013 as against US$ 3.18 billion during the same period in 2012, according to statistics released by the Department of Industrial Policy and Promotion (DIPP), Government of India.

During 2012-13, India attracted FDI worth US$ 22.42 billion.
Hotels and tourism, pharmaceuticals, services, chemicals and construction received the highest amount of FDI.
The major contributors to the Indian FDI were Singapore, Mauritius, the Netherlands and the US.
Private equity (PE) and venture capital (VC) firms remain bullish about India's consumer goods and services sector. PE and VC investments increased by more than 46% in the first half of FY14, with consumer companies in retail, e-commerce, consumer packaged goods and quick service restaurants raising US$ 609.39 million through 51 deals.
Indian merger and acquisition (M&A) space witnessed substantial levels of deal activity in the first nine months of 2013. 377 deals took place amounting to US$ 23.9 billion, according to a survey by tax advisory firm, Grant Thornton.
India's foreign exchange (forex) reserves increased by US$ 1.51 billion to touch US$ 279.24 billion for the week ended October 11, 2013, showed the data from the Reserve Bank of India's Weekly Statistical Supplement. India's foreign currency assets (FCA), the biggest component of the forex reserves, increased by US$ 1.52 billion to US$ 250.85 billion for the week under review.